Topic 1: Live Your Crazy Dreams
5 Secret Life Hacks to Achieving Your Dream Career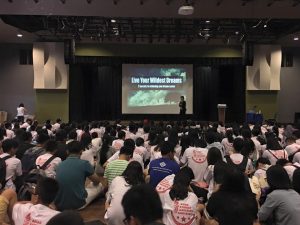 Have you ever wondered why you were not able to achieve the goals that you have set for yourself in the past no matter how hard you try?
Most of us set goals and have dreams but never get near to achieving them. We feel stuck and don't know where and how to take the first step and achieve our first breakthrough.
Personally, I have been to that point myself and I understand how frustrating it can be. It is only after adopting the habits of the elite performers and the living legends that I got to live the life of my dreams.
This keynote reveal the secrets of living the life you have always dreamed of. You will learn:
Tips to overcome some of the toughest struggles in your life
Strategies to overcome the need to conform to the crowd
Exude rare-air confidence that you have never experienced ever in your life
Topic 2: Ignite Your True Passion
4 Secrets to Finding Your Life Calling
Have you ever wondered what will you regret most when you only have a few days left to live? You would be surprised that the top 5 actions that causes regrets before death are what most of us are doing on a daily basis, but do not even realize it.
There has been a lot of hype and talk about standing out from the crowd and achieving our dreams, but how many of us are actually living this dream every single day? Sadly, there aren't many.
Because living our dreams would mean stepping out of the herd would require us to be willing to be different. Sometimes it would also mean having to go through the pain of isolation, being laughed at and constantly being misunderstood. But I do promise you, the rewards that come after the struggles, are priceless.
Most of us spend our lives working to help other people achieve their dreams. Most people spend their lives living for others and as a result forgotten who they truly are.
Is fitting in more important than living your dreams? Do you want to change the world? As Robin Sharma once said, "You can either fit in or change the world, but you just can't do both."
The keynote will provide never heard before strategies to find your life calling in a world where you are told to conform and fit in. Here's what participants are expected to get:
Live the life beyond your wildest dreams
Succeed when no one else in the world (not even your family) believes in you
Finding your true purpose in life without taking personality tests and going through career counselling
Topic 3: The Next Living Legend
How to Become World-Class in Your Field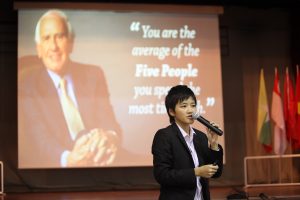 We have all been to a place where we felt like we are good, but not great enough. We aren't making any progress and it is absolutely frustrating.
Michael Phelps, Michael Jordan and Donald Trump: What do these 3 people have in common? They are world-class in what they do. And here is the surprise: it is not because of talent.
Over my years in speaking and training, I have come across some of the most successful people in Asia coming from various backgrounds ranging from authors, entrepreneurs, CEO and world-renowned speakers who do world-class work.
I soon discovered that majority of these world-class performers have a few habits in common that anybody can start incorporating into their lives from this day onward.
If you are able to adopt the lifestyle habits of the legends, you'll be able to achieve never-seen-before results in your industry and achieve rare air success.
 This talk is specially catered for the aspiring high achievers who want to achieve more than what they already have. This is where you will be given the strategies to reach to the top in your field through obtaining these strategies:
Become the #1 in your field
Achieve never seen before results that others can only dream of
Become an inspiration to others with your massive success